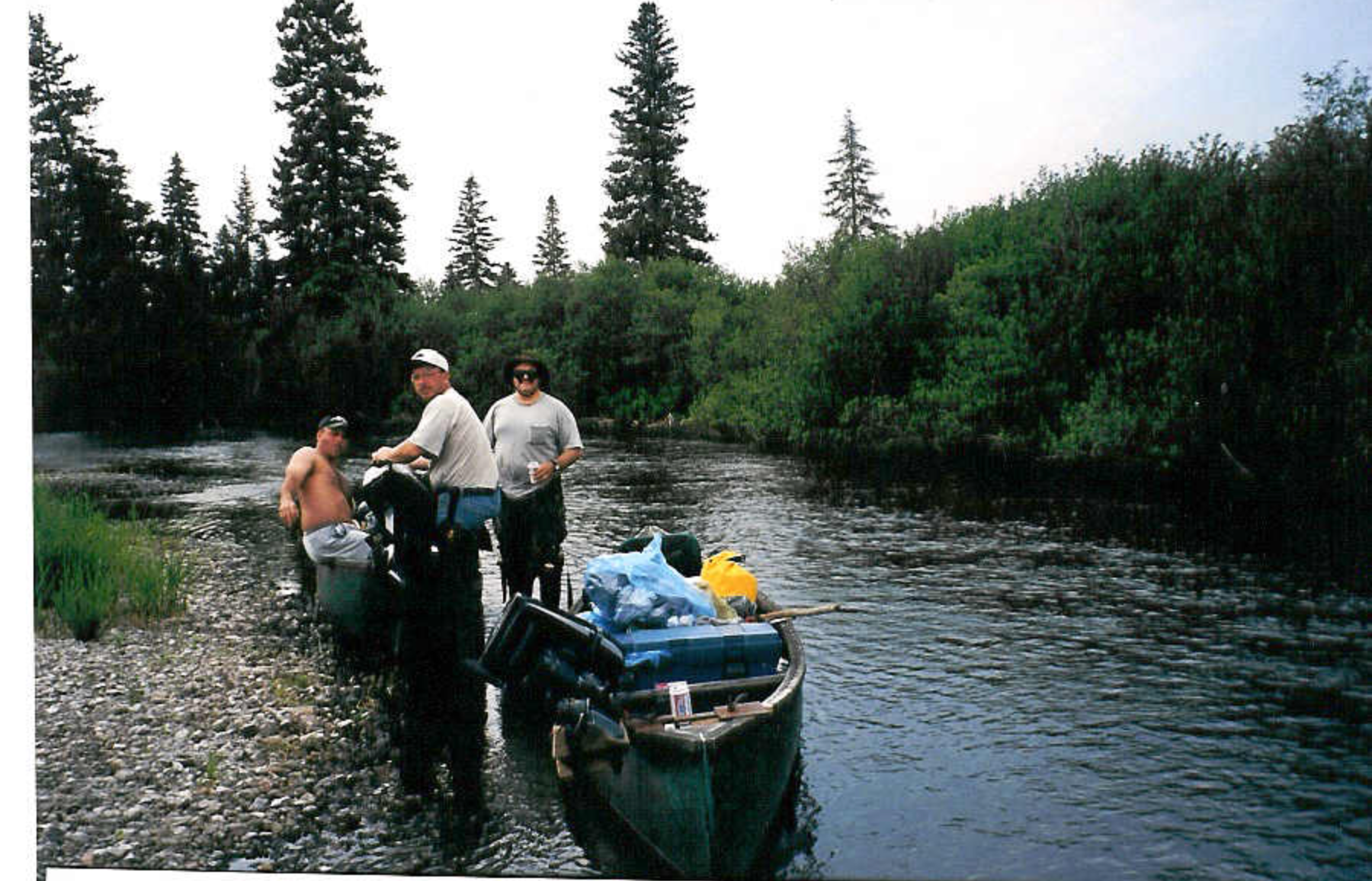 Through the later years of the 1990s and up to 2001, Damien, Denis, Marvin, Craig and I traveled by canoe on various occasions on the upper reaches of the Main South West Miramichi. These three and four day trips are among our favorite memories. The trips came to a screeching halt when Marvin passed away, Damien moved to St. Stephens and Denis is now working out west. It is funny how thing can change so fast. To many memories do I have to list them all so I will post but a few on an ongoing, occasional manner. 
The wait. 
We sat in welcoming heat of spring not so patiently awaiting the expected phone call. Until Denny calls informing us that the trout are in the upper reaches North Branch of the Main South West Miramichi, Damien, Marvin and I hold tight and wait with great excitement. Reviewing gear requirements and envisioning our coming three day fishing trip only seem to intensify the agony of the wait. Denny usually waits until one of our comrades hooks a big one then in the midst of the excitement calls us on his cell. He knows the excitement is more then we can take so he can expect our arrival within a day or two. 
The cell phone ring, a voice screaming "get the net"  "Get the net" are those familiar words that are yelled with excitement to signify we hooked a big trout or maybe even a salmon. These words we grew to love for it is a symbol of our excitement and gives testament that the greatest game has begun. 
As we load the supplies in the back of Damien's green Ford truck I wonder how we are going to fit all this gear in two canoes. Damien is not worried about it. Damien doesn't have the space thing or anything else planned out. The fact is he is careless and does not care about much especially when we are going fishing. He does not care if he even takes a sleeping bag, all he knows is we are going fishing and that's all that matters. Nobody really expected him to live this long and I can see why. Damien hales from the Juniper area. He is a crazy one alright. It is guaranteed that going fishing with Damien, Marvin and Denny will make for a great time with many laughs. 
Final supplies are picked up at Lyon's store and we continue our way up the 126 heading for the waters of the upper reaches of the Main South West Miramichi. The closer we get to the Miramichi the louder the music, the more excitement and the more we laugh. The release of our daily pressures was welcoming. My guilt for leaving my family for three days now subsides. My dreams now transform to reality; a joy that only a three day fishing trip with great friends can conjure.